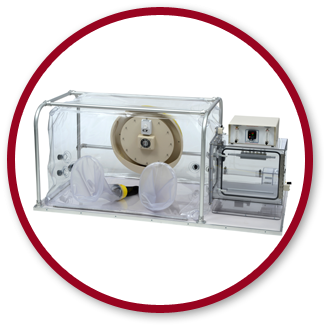 O2 Control InVivo Glove Box
For Animal Studies
Maintain animals for extended periods of time under hypoxic or hyperoxic conditions, without ever exposing them to ambient air with Coy's O2 Control Glove Box for Animal Studies. With oxygen and nitrogen gas sources connected to the O2 controller, the microprocessor controls gas purges based on sensor readings and the user-adjustable set point. Required animal care procedures can be performed while consistently maintaining uninterrupted hypoxia or hyperoxia.
Coy O2 Control Glove Boxes for Animal Studies feature:
Animal filtration system: Long-term studies or high numbers of animals will require this filtration system to remove gaseous waste.
Added capacity for animal filtration: Additional filters to enhance the filtration system and adjust for the number of animals while easing maintenance time for lab personnel.
Large capacity dehumidifier: Easy-to-maintain unit provides a way to remove moisture without using a desiccant.
Recirculating atmosphere filtration system (HEPA): System filters the box atmosphere and controls contamination through a standard HEPA filter.
Sliding airlock shelf: Ergonomic convenience that allows the user to slide the shelf from the airlock into the glove box interior and vice versa.
Temperature control: temperature control solutions available for animal comfort and to maintain experimental conditions.
Humidity Consideration in Animal Studies
Humidity from respiration should be controlled at least to non-condensing levels to provide an atmosphere that protects equipment and the sensors from condensation and is comfortable for the animals and glove box users. Coy offers an automatic dehumidifier for long-term studies. The dehumidifier for the vinyl units accommodates experiments with larger animals and larger numbers of animals. The automatic dehumidifier for rigid units is equipped with a digital display and controls, which is intended to serve experiments with small size and numbers of animals.
All O2 Control Glove Boxes for Animal Studies include:
O2 control range from 0-100%
Factory calibrated for 0-20.9% O2 control (field calibration required)
Oxygen is controlled with user-adjustable set points in increments of 0.1% (option available for ramp and cycle)
Purge-only airlock (which, for optimum efficiency, can be custom-built based on the umber and size of the animals as well as their cage-size)
Glove box materials range from flexible vinyl to durable aluminum and polycarbonate
Interior power supply
Fan (heated or unheated)
Construction
Coy O2 Control Glove Boxes for Animal Studies are equipped with a purge-only airlock, which is a transfer chamber that equilibrates O2 levels by purging excess O2 or N2 prior to opening the door into the actual glove box and placing items inside. Automatic units use a specific preset time for purges based on protocol and desired glove box O2 levels. With manual units, the user operates a valve and times the purge.
Materials
Vinyl
Larger usable interior work space compared to most rigid glove boxes
Large gloves ports and flexible nature of the vinyl allow the user to reach deeper and higher into the glove box, providing greater ergonomic comfort when handling cumbersome cages
Removable rear equipment entry port (20"/508 mm diameter)
Rigid (Aluminum and Polymer)
Gloveless sleeves allow greater dexterity for the fine manipulations
Side door or optional removable front panel allows quick access to the glove box interior
O2 Control Glove Box for Animal Studies Specifications
O2 Control 0-20.9%  +/- 0.1% Resolution
CO2 Control (option) 0-20%  +/- 0.1% Resolution
NOTE:  CO2 Control for in vivo units is through the Animal Filtration option which is designed to remove CO2 and other waste byproducts.  However the same control mechanism can be configured for elevated (hypercapnia) studies.
Temperature Control (option) contact Coy for details
Humidity Control to 30 % RH or  non-condensing levels
Glove Box Description
Chamber Dimensions
(L x D x H)
Vinyl
Mini Glove Box
30 x 28 x 26 in
762 x 711 x 660 mm
One Person Glove Box
44 x 28 x 26 in
1118 x 711 x 660 mm
Two Person Glove Box
78 x 28 x 26 in
1981 x 711 x 660 mm
Polycarbonate
One Person Glove Box
41 x 23 x 23 in
1041 x 584 x 584 mm
Two Person Glove Box
59 x 23 x 23 in
1499 x 584 x 584 mm
Literature
Instruction Manual