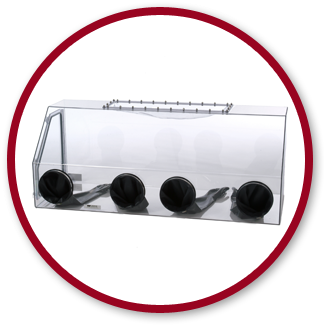 Isolation Glove Boxes (Containment)
Designed to place an added barrier between you and any suspected contaminants contained within an envelope or package.
This containment glove box features:
Hermetically sealed interior provides the airtight atmosphere you desire when opening tainted mail
Latex gloves which offer the greatest dexterity available while keeping your skin safe from contamination
Side door of the glove box allows for larger packages to be passed into the glove box before being opened.
Patented Coy diaphragm top allows the user to comfortably enter the chamber through the glove ports without fighting the gloves, and without expelling the interior atmosphere to the room air
The Coy Isolation Glove Box was originally designed anthrax containment but can be used for any sealed containment needs.
All glove boxes are fabricated to meet rigorous standards for cleanliness and durability. Solvent welding ensures a strong, airtight structure that won't leak. The gaskets on the side doors provide a safe, positive seal without interfering with full access to the internal chamber.
The front viewing angle allows the operator an uninterrupted view of work in progress. Contact Coy about custom viewing angles for specific requirements.
Standard Features:
Neoprene sleeve with replaceable cuff length latex glove
Large side door
Patented Diaphragm Top*
*The patented Diaphragm Top increases the ease with which the operator's hands enter and exit the glove box buy expanding and contracting the interior volume as a users hands enter and exit the glove box
Glove Box Description
Part Number
Chamber Dimensions
L x D x H
Mini Glove Box
8302025
24 x 24 x 20 in
61 x 61 x 50 cm
1 Person Glove Box
8302050
42 x 24 x 24 in
107 x 61 x 61 cm
2 Person Glove Box
8302100
60 x 24 x 24 in
153 x 61 x 61 cm
Glove Sizes
Medium, Large (standard), X-Large
Side Door
Click here for PDF dimensional drawing of door
*5ft Units are equipped with 4 Glove Ports for 2 person operation.
Documents provided here for reference.  Contact us with your specific questions or request for customizations.