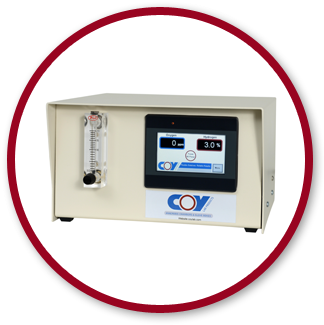 Anaerobic Gas Infuser
Optimize your anaerobic gas consumption and save on operational cost with the Coy Anaerobic Gas Infuser.  The Gas Infuser operates with the Coy Anaerobic Monitor to ensure proper H2 levels are maintained at all times.  Saving you lab time and money by doing this automatically and ensuring your anaerobic workstation only uses the proper amount of H2 content.   Cost savings can be up to 75% less than other anaerobic chamber styles.
To avoid pressurizing the system a small valve opens allowing excess pressure to vent from the system through tubing connections.
The Anaerobic Gas Infuser also includes data logging software allowing you to chronicle your oxygen and hydrogen levels.  Tracking this data is ideal for trouble shooting, minimizing waste and improving lab efficiency.
Automatic hydrogen maintenance

(Designed to control at precisely 3% for safe operating conditions.)

Touch Screen Controls
Alarms for excess gas consumption
Trouble shooting guide
Data logging of both oxygen and hydrogen levels
Maximize cost efficiency of the Gas Mix supply
Includes communication cable for connection to any Coy Anaerobic Monitor
Gas Lines and Chamber Fittings Included
When the chamber hydrogen level drops to 2.8% or lower. Valve
on the Infuser opens to allow the anaerobic mix gas to enter into the chamber
automatically. At the same time a one way valve opens allowing gas to slowly escape
through positive pressure created by the injection of fresh gas mix. If the hydrogen levels
do not reach 3.0% within 2.5 hours an alarm will trigger and the system will stop. The
alarm has to be cleared prior to operating again and an on‐screen guide is provided to
diagnose the reason for the alarm.
Hydrogen Control Set Point = 3% H2
Control Hysteresis = 0.1% H2
Timer Alarm = 2.5 hrs after purge starts
Instruction Manaul
Literature