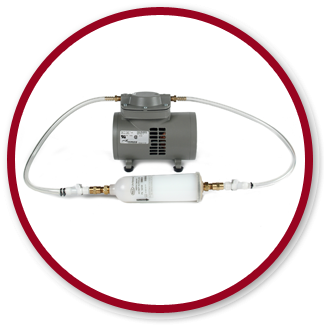 Atmosphere Filter System
This recirculating system will control contamination of particles 0.3 micron and larger. Engineered much like the dehumidification apparatus, the filter receives glove box atmosphere drawn by a vacuum pump and returned to the glove box. The filter sits outside the glove box and can be changed without compromising the integrity of the glove box's seal. Flexible tubing and quick disconnect fittings are used for capsule attachment. The fittings have internal shut-offs to maintain glove box environment.
Recirculating Atmosphere Filtration System (HePa)
This system filters the box atmosphere and controls contamination through a standard HEPA filter. The external pump-activated system has the filter mounted outside the box. The system draws the internal atmosphere out of the box, through the external filter and back into the box. Equipped with sealed quick-disconnect fittings, the filter is fast and easy to change without compromising filter and glove box integrity. Other types of filters can be added.
CarbO2Lime® is a registered trademark of Allied Healthcare Products, Inc., St. Louis, MO.