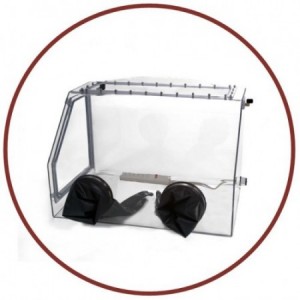 Rigid Glove Boxes
These Glove Boxes are an economical way to perform and maintain a wide range of atmospheres and functions from simple dry gas purge to isolation/containment. The polymer glove boxes' modular design lets you select the options you need for your operation. Hermetically sealed enclosures with over 20 different optional accessories allow you to build the ideal glove box for your application.
The standard configuration is designed to allow simple gas purge operations with a gas inlet valve and an automatic pressure relief valve. The Coy polymer glove box can also easily and affordably be customized to your needs.
Aluminum Glove Boxes have the same features but are slightly larger and ideal if harsh chemicals are used.
Polymer Glove Box Details
All glove boxes are fabricated to meet rigorous standards for cleanliness and durability. Solvent welding ensures a strong, airtight structure that won't leak. The gaskets on the side doors provide a safe, positive seal without interfering with full access to the internal chamber.
The front viewing angle allows the operator an uninterrupted view of work in progress. Contact Coy about custom viewing angles for specific requirements.
Standard Features:
Neoprene sleeve with replaceable cuff length latex glove
Inlet valve with 1/4″ (6mm) quick disconnect fitting
Automatic pressure relief valve
Large side door
Patented diaphragm top*
6-outlet internal power supply
*The patented diaphragm top increases the ease with which the operator's hands enter and exit the glove box
For isolation systems, the pressure relief valve that vents to room air can be sealed and equipped with tubing for routing to a fume hood or house evacuation system or Coy supplied capsule HEPA Filter.
Glove Box Description
Part Number
Chamber Dimensions
L x D x H
Mini Glove Box
8302025
24 x 24 x 20 in
61 x 61 x 50 cm
1 Person Glove Box
8302050
42 x 24 x 24 in
107 x 61 x 61 cm
2 Person Glove Box
8302100
60 x 24 x 24 in
153 x 61 x 61 cm
Glove Sizes
Medium, Large (standard), X-Large
Side Door
Click here for PDF dimensional drawing of door
In addition to R&D and university research laboratory applications, Coy controlled environment glove boxes have found use in other glove box applications including;
Micro welding
Dry atmosphere storage
Electronic equipment assembly
Clean room glove box
Containment glove box
Dry packaging
Controlled humidity applications
Chemical mixing
Inert gas purge
Oxygen control
Humidity control
Dry weighing
Optional Glove Box Accessories
Click here to view all possible accessories.  Below are common accessories associated with the Coy Vinyl Basic Glove Boxes.
Airlock for sample transfer
HEPA filtration
Oxygen monitor or control system
Humidity monitor or control system
Desiccant drying system
Feed-thru ports (for cords and tubing pass thru to chamber interior)
Temperature control (heater/chiller)
Microscope view ports
Gloveless sleeve upgrades (like Iris Ports only better)
Custom sizing (contact Coy for details)