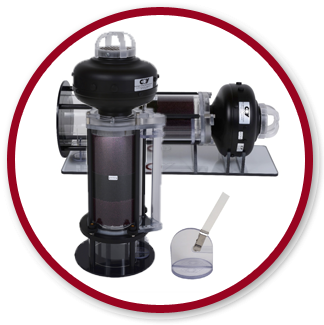 Hydrogen Sulfide Removal Column
Accumulation of hydrogen sulfide (H2S) in Anaerobic Microbiology Chambers can result in damage to electronics and decreased catalyst lifetime.  The Coy Hydrogen Sulfide Removal Column (HSRC) provides maintenance-free, high capacity removal of undesirable hydrogen sulfide (H2S) by recirculating the Chamber atmosphere through the Column.
The HSRC's unique layering of H2S removal media acts via a combination of adsorption and chemisorption.  Having two media maintains performance under a broad range of operating conditions since the mechanism-of-action/performance of individual media depends on a complex set of variables.    An integral airflow system, combined with the column design, ensures required air flow conditions to take advantage of the high H2S removal capacity with single-pass H2S clearance.
Features:
Provides a high H2S removal capacity
Removes other volatile byproducts of microbial metabolism
Functions over a wide range of environmental conditions
Requires no maintenance for months
Includes indicator to signal when media change is needed
Can operated vertically or horizontally with optional cradle
Applicaton:  Posters presented at scientific meetings provided examples of results from utilizing the columns in anaerobic chambers growing C difficile or mixed cultures of fecal material in bioreactors.
---