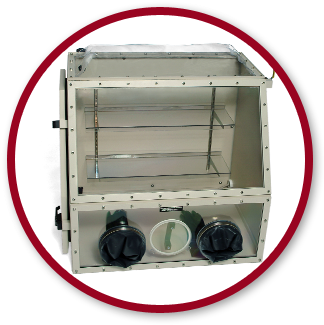 Aluminum Glove Box
Designed for simple gas purge operation with a gas inlet valve and an automatic pressure relief valve these glove boxes are ideal for simple containment or dry gas purge operations. With options you can control oxygen, humidity, temperature or CO2 within these glove boxes. Aluminum units can be designed for your individual needs by selecting components from numerous interchangeable Coy parts and accessories, and are the perfect glove box style to select when dealing with harsh chemicals by adding tempered glass options to the viewing panel and top. For isolation systems, the pressure relief valve that vents to room air can be removed or sealed and equipped with tubing for routing to a fume hood or house evacuation system.
The Aluminum Glove Boxes also feature a
Large side door
Interior shelves
Neoprene sleeves with latex glove
Patented diaphragm top for superior operator comfort
6-outlet interior power supply
Automatic pressure relief valves
1/4″ (6mm) NPT gas inlet ball valve
The Aluminum Glove Box is available in 1- and 2-person sizes.
Aluminum Glove Box Details
All construction is from the following durable materials:
Epoxy-coated aluminum (1/8″, 3.2mm thick)
Clear polycarbonate (1/4″, 6.4mm thick) viewing and glove port panel
Patented Diaphragm Top manufactured from flexible PVC
EPOM rubber door gaskets
Advanced silicone adhesives and sealants
Self sealing quick disconnect gas fittings
Automatic pressure relief valves
1/4″ (6mm) NPT gas inlet ball valve
Construction
Many accessories are mounted to the glove box exterior to maximize interior work area and ease of maintenance. Quick disconnect fittings with NPT valves are included for easy self sealing connection of tubing. The viewing screen is designed to provide excellent interior shadow-free ambient light optional overhead lighting is available. Tempered glass may be substituted for the standard polycarbonate for certain chemical operations. All units are hermitically sealed and pressure checked at the factory for leaks. An inexpensive gas leak detector can be purchased for field-testing. GFI power lines are installed in humidified systems.
Aluminum Glove Box Dimensions
Glove Box Description
Chamber Dimensions
L x D x H
1 Person Glove Box
42 x 24 x 36 in
106 x 61 x 91 cm
2 Person Aluminum Glove Box
72 x 24 x 36 in
183 x 61 x 91 cm
Side Door Dimensions
Side Door Dimensions PDF
Glass Inlet Connection
¼ in or 66 mm vinyl tubing
Feed-thru Adaptor
1.5 in / 3.81 cm diameter
Shelf Size
8 in x 14 in W
20 D x 35 W cm
Affordable, modular, Aluminum Glove Boxes provide for a variety of atmospheres including, containment, humidity, temperature, oxygen controls and simple containment (isolation applications). Other applications include:
Dry atmosphere storage and packaging
Electronic equipment assembly
Chemical mixing
Inert gas purge
Dry weighing
Temperature control
Particulate control
Click here to view all possible accessories.  Below are common accessories associated with the Coy Aluminum Basic Glove Boxes.
Airlock for sample transfer
Atmosphere filtration system (HEPA)
Oxygen monitor or control system
Humidity monitor or control system
CO2 control and monitoring system
Desiccant drying system
Feed-thru ports (for cords and tubing pass thru to chamber interior)
Custom sizing (contact Coy for details)
Flow meters for precise gas purge control
Microscope port
Temperature control options (chiller &/or heaters)
For harsh chemical operations ask for tempered glass upgrades