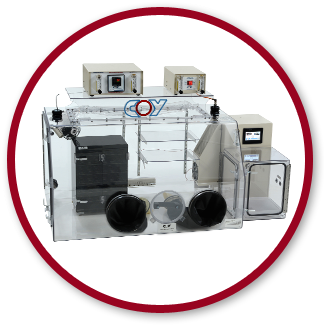 O2 Control InVitro Glove Box
For Tissue Culture
Perform incubation, culture maintenance & analysis in the same environment with Coy's O2 Control Glove Box for Tissue Culture. O2 and CO2 concentrations will need to be adjusted from their normal atmospheric air concentrations within the experimental chamber or the glove box. N2 is used as a flush gas to displace the atmospheric gas mix to the experimental pre-sets. The controllers, combined with the sealed glove box and airlock, provide a more accurate and uninterrupted environment than an incubator or cabinet system by eliminating exposure to non-experimental conditions.
Coy O2 Control Glove Boxes for Tissue Culture feature:
Atmosphere Filtration System (HEPA) — Capsule system filters the box atmosphere and controls contamination through a standard HEPA filter.
UV Light — A combination of fluorescent and 254-nanometer UV lights provides illumination and decontamination of the work area.
Anoxic Upgrade Kit — A kit for upgrading O2 Control Glove Boxes to enble the users to create an anoxic environment, using catalyst reacting with a non-flammable hydrogen gas mix.
High Accuracy Calibration Kit — Enables calibration and mounting of the O2 sensor, taking into account temperature, pressure and the dilution effects of humidity on O2 in air when it is used as the reference calibration gas.
Vacuum Sleeve — Further minimize the slight amount of O2 transferred into the system when accessing the unit through the glove ports.
Feed-Thru Adaptor — Electrical wiring, tubing or cords are input through factory-installed feed-thru adaptors sealed through the glove box wall.
Custom Sizing for Analytical Equipment — Perform all analysis and manipulations in a controlled environment.
Microscope View Port — Microscopes, valuable tools for intrabox work, are easier to use with this optically clear, flexible vinyl port.
How to Control for Heat and Humidity
The Coy O2 Control Glove Box for Cell and Tissue Culture has temperature control up to forty degrees Celsius. For long-term incubation, users will want to maintain high humidity levels to prevent sample from drying out. Coy offers a small humidified incubation box that allows samples to be incubated at levels of moisture at or near saturation while minimizing the amount of moisture that escapes into the glove box. Coy provides two solutions for controlling and removing moisture from this hypoxic chamber – a desiccant-based system or an automatic dehumidifier, which is recommended.
All O2 Control Glove Boxes for Tissue Culture are supplied with the following:
Control of O2 and CO2 in 0.1% increments
Gloveless sleeves (operator's arms and hands may enter the box through the cuff-and-sleeve system without compromising the environment)
Large side door for initial equipment installation
Interior power supply
Arm port plugs seal box when operator is not working in it
Adjustable interior shelves
Gloves may be attached to sleeves
Patented diaphragm top to compensate for small volume changes (e.g. hands entering), increasing user ergonomic comfort
Construction
Coy O2 Control Glove Boxes are equipped with a purge-only airlock, which is a transfer chamber that equilibrates O2 levels by purging excess O2 prior to opening the door into the actual glove box and placing items inside. Automatic units use a specific preset time for purges based on on protocol and desired glove box O2 levels. Once preset, the airlock is operated with the touch of a button by lab personnel. With manual units, the user operates a valve and times the purge.
The Coy Humidified Incubation Box for Cell and Tissue Culture is a separate unit that sits inside the glove box. It allows cultures to be humidified with the same atmosphere content (gas and temperature) without immediately increasing the humidity of the rest of the box.
Materials
Coy O2 Control Glove Boxes for InVitro Studies are available in polycarbonate (three standard sizes) and aluminum (two standard sizes). The choice of material depends on your research needs and budget. Aluminum is generally more robust and, therefore, has more service years than polycarbonate. Polycarbonate is a less expensive option and is easily customizable.
Glove Box Specifications
Coy 1 Person O2 Control Glove Box
Coy 2 Person O2 Control Glove Box
Construction Material
Polycarbonate Plastic and Aluminum
Total Glove Box Footprint
137 L x 61 D
(H= 72) cm
152 L x 61 D
(H= 72) cm
Interior Work Area
104 L x 59 D cm
188 L x 59 D cm
# of Glove Ports
2
4
Glove Port Style
Gloveless Sleeve Standard
Vacuum/Purge Sleeves or Gloved options available
Pressure Regulation
Automatic Pressure Relief Valve and Patented Diaphragm Top to compensate for hands entering through the gloves.
Moisture Control
Glove Box Dehumidifier to maintain non-condensing moisture levels.
Glove Box Temperature Control, and Range
+3 ambient to 45° C
Note: Not used if using internal incubator (s)
Glove Box working Incubation Capacity (# of 100mm Petri Dishes).
Up to 450 x90mm Petri Dishes
Up to 600 x90mm Petri Dishes
Airlock Capacity
30 x 100mm plates
Airlock Operation
Automatic timer
Airlock Transfer Time
10-190 seconds user adjustable
Interior Power Supply
5 outlet 110/220v
Power Outlets Needed
4 for standard operation
Note certain options will require additional outlets
Glove Material
Neoprene Sleeve with Latex Cuff
Large Side Door
Standard
Options for removable Front Panel
Gas Requirements
N2, CO2 and Oxygen gas sources
Oxygen Control
0-100% +/- 0.1% resolution
CO2 Control
0-20% +/- 0.1% resolution
Humidified Incubation Box
Separate internal incubator designed to minimize media loss