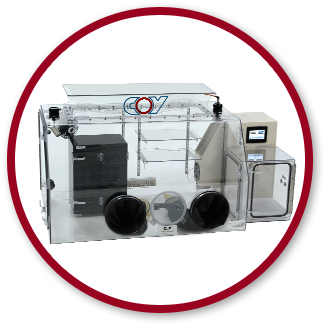 Gloveless Anaerobic Chamber
Gloveless Anaerobic Chambers offer the operator a convenient glove-free ability to handle and inspect samples under low oxygen (0-5 ppm) conditions. A special cuff and sleeve-vacuum system allows the operator to work barehanded (or with surgical gloves) inside the glove box. After the operator inserts their arms into the gloveless sleeves, a foot operated sleeve-vacuum system creates an inert atmosphere in the sleeves prior to removing the Arm Port Plugs. This permits the operator's arms to enter the glove box without compromising the anaerobic chamber atmosphere. Tactile efficiency is improved. The Arm Port Plugs are used to seal the glove box while it is idle.
Units operate similar to other Coy anaerobic chambers using a palladium catalyst to remove O2 through a H2 Gas Mix (5%). Equipped with an airlock to establish low O2 conditions prior to transferring samples and instrumentation in/out of the work area.
All Coy Polymer Gloveless Anaerobic Chamber include a built in heating system and dehumidifier to maintain ideal temperature and moisture levels through the touch screen display.
Two standard size units available plus custom sizing to meet your needs.
Patented diagram top: Prevents glove fight back and conserves gas consumption making it more economical to operate than competitive units
Large side door: For cleaning and large equipment entry

Barehanded entry ports: With port plugs to seal chamber when not in use
Automatic gas injection system: To maintain proper anaerobic gas mix
Maintains 0-5 parts per million (ppm) oxygen level
Entire chamber is heated
Automatic airlock
All these reason and more have made Coy the most used and cited anaerobic chamber in the world!
Glove Box Specifications
Coy 1 Person Polymer Gloveless Anaerobic Chamber
Coy 2 Person Polymer Gloveless Anaerobic Chamber
Construction Material
Polycarbonate Plastic and Aluminum
Total Glove Box Footprint
137 L x 61 D
(H= 72) cm
152 L x 61 D
(H= 72) cm
Interior Work Area
104 L x 59 D cm
188 L x 59 D cm
# of Glove Ports
2
4
Glove Port Style
Gloveless Sleeve with Vacuum Purge Operation via a foot switch for bare handed access
Catalyst
Palladium
Pressure Regulation
Automatic Pressure Relief Valve and Patented Diaphragm Top to compensate for hands entering through the gloves.
Moisture Control
Non-Condensing under normal operating conditions
Glove Box Temperature Control, and Range
+3 ambient to 45° C
Glove Box working Incubation Capacity (# of 100mm Petri Dishes).
Up to 450 x90mm Petri Dishes
Up to 600 x90mm Petri Dishes
Airlock Capacity
30 x 100mm plates
Automatic or Manual Airlock Operation
Automatic
Airlock Transfer Time
10-190 seconds user adjustable
Interior Shelves
4 x Adjustable Height
35 W x 20 D cm
6 x Adjustable Height
35 W x 20 D cm
Interior Power Supply
5 outlet Standard
Glove Material
Neoprene Sleeve with Latex Cuff
Large Side Door
Standard
Gas Requirements
Dual or Single tank operation
Background Gas (any inert gas usually N2) and Anaerobic Gas (5%H2)
CO2 % mixes are based on biological study needs and not necessary to chamber operation
Spec Sheet
Accessories Catalogs
Instruction Manuals