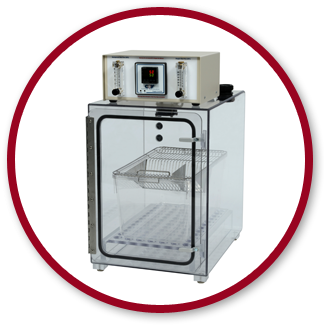 O2 Control InVivo Cabinet
For Animal Studies
The Coy InVivo Hypoxic Cabinet System is the only system of its type that is a hermetically sealed chamber and allows continuous control of oxygen. This hypoxic chamber allows animals to live at reduced or elevated O2 levels. The system features the ability to change the O2 levels between multiple set points in increments of 0.1%. Users need only to supply a gas source for nitrogen and oxygen. The System features an advance controller and sensor to precisely control your needs. Cabinet comes complete with fittings and pressure relief valve to make operation and set up easy.
Due to the wide variety of protocols on InVivo hypoxia studies Coy offers a complete line of options to ensure your animal care needs are met.
Coy O2 Control InVivo Cabinets Options:
Animal filtration system (option) — Long-term studies or high numbers of animals will require this filtration system to remove gaseous waste.
Dynamic O2 cycling (upgrade) — For studies requiring cycling O2 levels for intermittent hypoxia, Coy offers a factory-installed option to ramp and cycle oxygen levels based on preset protocols in the O2 control system.
Added capacity for animal filtration — Additional filters to enhance the filtration system and adjust for the number of animals while easing maintenance time for lab personnel.
Heaters — Internal heaters may be added if they are needed, available for Models 30 and 60.
Compact dehumidifier — Easy-to-maintain unit provides a way to remove moisture without using a desiccant.
Recirculating atmosphere filtration system — System filters the box atmosphere and controls contamination through a standard HEPA filter.
Humidity Consideration for InVivo Studies
Humidity from respiration should be controlled at least to non-condensing levels to provide an atmosphere that protects equipment and the sensors from condensation and is comfortable for the animals and users. The number of animals and the duration of hypoxic incubation will determine the appropriate humidity control solution for your study. Contact an expert at Coy Lab to discuss your options.
All O2 Control InVivo Cabinets are supplied with the following:
Pressure relief valve
Two sensor ports
Circulation fan
Gas Inlet
Optional pullout shelf for Model 30 unit
O2 control range from 1-100%; factory calibrated for 0-20.9% (field calibration required)
Adjustable leveling pads
Construction
With oxygen and nitrogen gas sources connected to the O2 controller, the microprocessor controls gas purges based on sensor readings and the user-adjustable setpoint. Unlike other systems, there is no continuous purge of gas into the cabinet. This hypoxic chamber's hermetic seal ensures that even with the controller detached, you can maintain preset O2 levels for periods of time depending on experimental conditions. This translates into less gas consumption compared to a semi sealed cabinet.
O2 Control  In Vivo Cabinet Specifications
O2 Control 0-20.9%  +/- 0.1% Resolution
CO2 Control (option) 0-20%  +/- 0.1% Resolution
NOTE:  CO2 Control for in vivo units is through the Animal Filtration option which is designed to remove CO2 and other waste byproducts.  However the same control mechanism can be configured for elevated (hypercapnia) studies.
Temperature Control (option) contact Coy for details
Humidity Control to 30 % RH or  non-condensing levels
O2 Control In Vivo Cabinet Dimensions
Glove Box Description
Chamber Dimensions
(L x D x H)
InVivo Cabinet Model 15
15 x 20 x 20 in
381 x 508 x 508 mm
InVivo Cabinet Model 30
30 x 20 x 20 in
762 x 508 x 508 mm
InVivo Cabinet Model 60
60 x 20 x 20 in
1524 x 508 x 508 mm
Literature
Instruction Manual