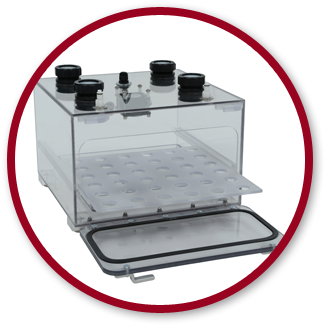 O2 Control InVitro Cabinet
For Cell Cultures
The Coy InVitro Hypoxic Cabinet System is the only system of its type that is a hermetically sealed chamber and allows continuous control of oxygen. The system features result in less gas consumption (lower operating cost) and more reproducible oxygen results when compared to tri-gas incubators and other cabinet systems. InVitro cabinets are designed to use existing lab incubators for temperature control while completely controlling oxygen levels (and optionally, CO2) inside the cabinet.
Coy InVitro Cabinet Systems feature:
Premixed tanks of N2 and CO2 gas with O2 controller — Enables you to deliver CO2 in multiple ways dependent upon your research and budget.
Coy automatic CO2 control system — Allows for precise control and constant digital monitoring of CO2 gas inside the cabinet.
Intermittent hypoxia — For dynamic O2 cycling.
High accuracy calibration kit — Enables calibration and mounting of the O2 sensor.
Custom Sizing Options
Though this cabinet comes in four standard-size units, we can economically custom size or configure a cabinet to your lab needs. With modular designs and accessories, and 40 years of in-house customization experience, Coy is flexible in its problem solving approach.
O2 Control InVitro Cabinet Details
All O2 Control InVitro Cabinets are supplied with the following:
O2 controller and sensor
Pressure relief valve
Two sensor ports
Circulation fan
Gas inlet
Pullout sliding shelves
Humidification trays
Adjustable leveling pads
Construction
Pullout shelves, spaced 1.5″ apart, provide easy access to samples. Humidity is achieved from water in a high-surface-area tray. The system also offers the ability to change the O2 levels between multiple setpoints in increments of 0.1%.
The microprocessor controls gas purges based on the sensor reading and user-adjustable setpoint. This system does not require continuous purge of gas into the cabinet. Depending on the application, you will need to supply one or all of the following gases: nitrogen, nitrogen with CO2 mix, and O2.
Control Ranges
O2 Control: 0-100% in 0.1% increments and control tolerance (factory range 0-20.9%, filed calibration required)
CO2 Control (option): o-20% in 0.1% increments and control tolerance

or use pre-mixed tanks to control to desired levels.

Temperature Control: As dictated by incubator used to contain the cabinet.
Humidity:  Moisture tray to ensure maximum sample saturation.
O2 Control InVitro Cabinet Dimensions
Glove Box Description
Chamber Dimensions
(L x D x H)
O2 Control Cabinet Model 1
9.5 x 16 x 15 in
245 x 406 x 381 mm
O2 Control Cabinet Model 2
11.5 x 16 x 15 in
292 x 406 x 381 mm
O2 Control Cabinet Model 3
14 x 16 x 15 in
356 x 406 x 381 mm
O2 Control Cabinet Model 4
16.25 x 16 x 15 in
413 x 406 x 381 mm
Literature
Instruction Manual