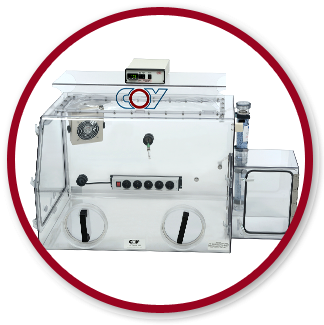 Dry Glove Boxes
Coy Dry Glove Boxes control and maintain humidity levels below ambient conditions, achieving a humidity level of 5% or lower through either a desiccant system for removing moisture or through a dry gas purge system, typically utilizing dry nitrogen or argon. Control is through a revolutionary sensor and monitor/controller providing precise control in 0.1% increments, with tuning features.
STYLES Two standard styles available, a clear polycarbonate unit that features a lower cost to purchase, and relatively lower cost to customize.  The aluminum units while more expensive on initial purchase are a longer lasting, sturdy build that with the addition of tempered glass can be used in highly corrosive chemical use. Polycarbonate units have three standard sizes and aluminum units have two available sizes.
AUTOMATIC CONTROL The automatic controller provides monitoring and control of the relative humidity. It activates the necessary system when the moisture level deviates from the adjustable set point. Since this is a closed loop circulation system, an inert gas environment can be maintained in the glove box while controlling the moisture. Depending on the atmosphere desired it may be more advantageous to operate these systems with the desiccant drying system so the dry gas purge does not affect other atmospheric conditions (e.g.: oxygen).
Drying Systems: Two systems are available to dry these Humidity Control Glove Boxes a Desiccant Drying System (Pictured above) and a Dry Gas Purge System.  The Desiccant System is standard however the Dry Gas Purge System can be substituted at no extra cost. The Gas Purge System, provides faster drying times and requires less maintenance (Desiccant needs to be rejuvenated) and is consider a "cleaner" process although individual tanks do vary on particulate load. The Desiccant Drying system can be a lot less expensive to operate. The two systems can also be used to work together to minimize the cost of the dry gas purge system.
Gloveless Sleeves: All glove boxes are equipped with gloveless sleeves to allow superior handling of interior samples.  However the moisture from skin does influence Humidity levels below 15% RH and for these applications the user may need to operate with gloves which can easily placed over the Coy gloveless sleeve cuff.
Transfer Chamber Option: All units have an optional pass thru chamber (air lock) available. This enables transfer of equipment and samples with out drastic changes to the interior environment.
Side Doors: All units feature a large side entry door (left side placement) that allows easy access to the glove box interior for cleaning or installation of large equipment. Upgrade any Polymer Glove Box to a removable front panel for extremely large items transfer.
---
Full Humidity Control:  See our Full Humidity Control Glove Boxes.
Control Range: 1%*- ambient
Automatic only Specs
Accuracy: +/- 2% RH 
Resolution:  0.1%
Control Tolerance:  0.1%
Glove Box Sizes:
Polymer
Mini –  24″ H  w x 24″ D x 24″ H (61 x 61 x 61 cm)
1 Person – 42″ w x 24″ D x 24″H (106 x 61 x 61 cm)
2 Person – 60″ w x 24″ D x 24″ H (152 x 61 x 61 cm)
Aluminum
1 Person – 42″ w x 24″ D x 36″H (106 x 61 x 91 cm)
2 Person – 72″ w x 24″ D x 36″ H (182 x 61 x 91 cm)
Large Side Door Dimension 18″ x 18″ (45 cm x 45 cm)
Click here to see more specifications:   Dry Glove Box Spec Sheet
Literature
Instruction Manuals